Travelling can be a lot of fun with an opportunity to explore a new destination, unwind and relax. However, travelling with a baby, can be another ball game altogether. Add to that multiple babies, and the whole process of travelling can get a little daunting. Whether it is your toddler and newborn or your triplets or your quadruplets or multiple small children, travelling with multiple babies might make you break into a cold sweat. Some parents might decide to forgo travelling altogether. But imagine all the fun times and invaluable experiences that will be missed by deciding not to travel. And the task is nothing that cannot be solved by meticulously planning beforehand and being thoroughly equipped.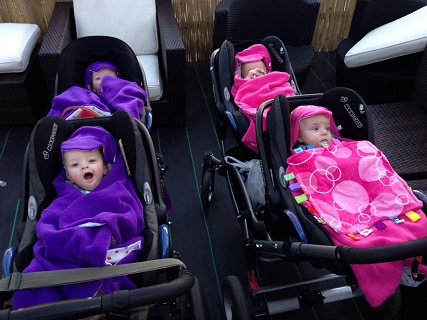 Tips to ease travelling with multiple babies
Plan well in advance When intending to travel with your multiple babies, remember to plan everything in detail and in advance. Right from a child friendly destination to how you intend to travel, who will take care of what specific responsibilities between both the parents while travelling, what kind of emergency situations that might arise and how prepared you are to handle it – you have to plan all in advance.For instance, while booking flight tickets ask for an extra seat if the flight is not full and if possible, all the seats in a row. The additional space is a boon for the babies to move around and for you to handle them with ease. Also, make sure you have arranged for too.
Pack meticulously Babies need a lot of things, even while travelling. Their quad pram, diapers, changing mats, bags to dispose soiled diapers, meals, snacks to munch on in between, change of clothes, toys, books and activities to keep them busy during flights, their favorite blanket and a lot more are to be packed. Make a list and pack separate bags, one for the diapers and changing essentials, like wipes and bags. Pack one bag for the food and another for their toys and books. This will prevent last minute hassles to search for things. With prams, it's better to buy ones designed especially for quadruplets with two removable carriers on top. These are easy to move around, especially through doorways and during transit.
Book hotel rooms which are spaciousCheck out the hotel rooms beforehand. Either book adjoining rooms where the babies can be in one and you in another, or consider rooms that are spacious. The space is needed to set up sleep tents or sleeping bags for multiple babies, since you cannot co-sleep with all. Also, the space allows for the babies to move around freely. It will not be long before your babies are no longer small, so cherish the travel moments, however stressful the situation might seem, it will be manageable, maybe by asking for help around. Enjoy the experience of travelling with your babies.